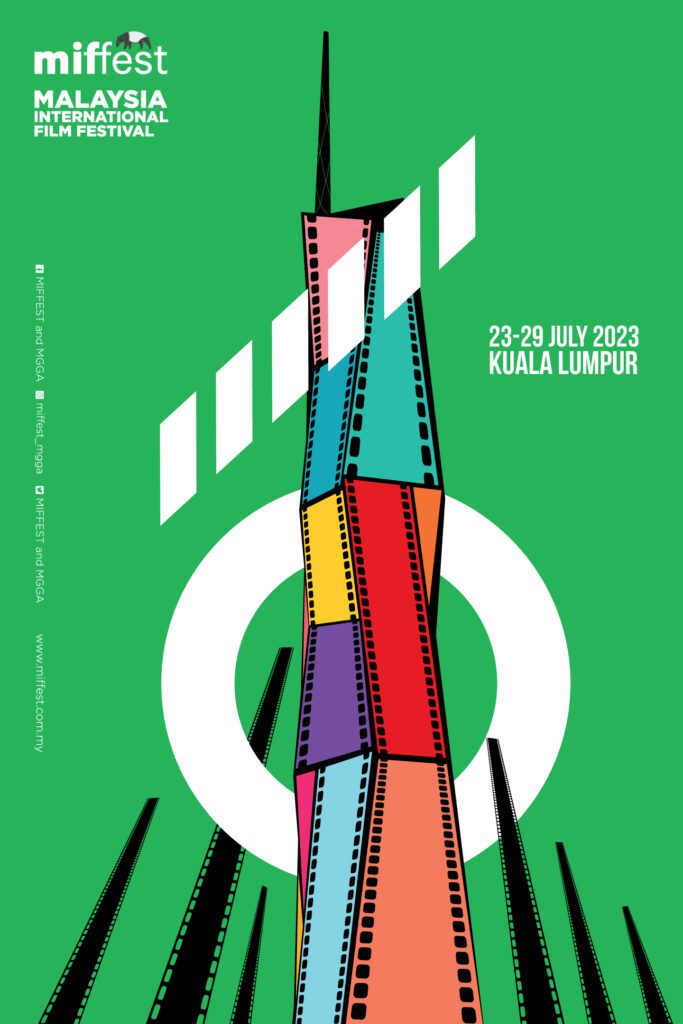 The liberty of the colourful Merdeka 118 embodied with film reels embracing new height over the globe. That captivates our attention at first sight and amazes us.

Film reels not only projecting a moving image, but also an ongoing discourse, the dialogue with our own voices to direct the concept of [New Take].

It gives us great pleasure to present the key visual for the 6th MIFFest 2023, this is a notion to the concept that advocates the return of filmmakers' with their new works in all its wondrous form, after confronting the difficulties, ferocities, and aggressions of the contemporary in order to establish our [New Take].

We are really excited to celebrate creativity together with those whose curiosity and enthusiasm makes the industry a vibrant, lively ambient.

See you all 23-29 July in the beautiful city of Kuala Lumpur.
A film or a filmmaker from different countries would be able to connect to each other, to achieve cultural exchange and other interactions through different unbounded platforms in a film festival or the film industry. Filmmakers with different cultures and personal identities are able to communicate and interact endlessly regardless of day or night.
See you all 10-15 July in the beautiful city of Kuala Lumpur.
The sudden impact of a pandemic, we lost memories of 2020 and 2021. The pandemic had a significant impact on all aspects of life, including us. MIFFest shifted to virtual formats, allowing audiences to view films online from the safety of their homes.

Increased accessibility for viewers who may not have been able to attend in-person events due to logistical or financial reasons. MIFFest provide opportunities for filmmakers to showcase their work to a wider audience and connect with industry professionals through online networking events and Q&A sessions.

An era we cannot forget, with remarkable moments we have had in this edition of MIFFest.
The Journey – Let us be part of your story.
Behind every film is a journey, and behind every journey is a story, and behind every story is sacrifice. Malaysia International Film Festival exists to honour the sacrifices made by every filmmaker and everyone else involved in the filmmaking process. Films aren't just moving pictures. They may be fragments of someone else's childhood, a piece of someone's memory, or the visual resonance of someone else's heartbeat. Malaysia International Film Festival invites you to be part of the story of the many filmmakers that have contributed so much for their audience, on the other side of the screen.
Perhaps you yourself are embarking on a unique journey as well. In that case, will you allow us filmmakers and film enthusiasts to inspire you? Will you allow us to be part of your journey?
See you all 14-19 July in the beautiful city of Kuala Lumpur.